NOW SOLD-Very rare Satoru Nakajima 1st Lotus type 91 test rwep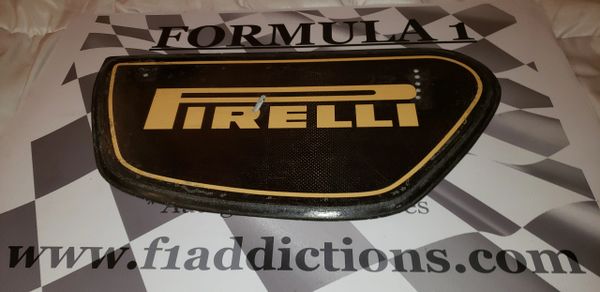 NOW SOLD-Very rare Satoru Nakajima 1st Lotus type 91 test rwep
NOW SOLD
Something incredibly rare.
This is Lotus type 91 rear wing end plate. This exact shape was used on the type 91 Lotus in 1982 driven by Nigel Mansell and Elio De Angelis. The sponsor decals were hand painted Tissot watches on the rear wing end plates. 
The rear wing end plate here has the hand painted Pirelli logo. This was not used for this year as it wasn't the Lotus team sponsor. However this exact shape/style rear wing end plate with the Pirelli sponsor was used for the 1983 Satoru Nakajimas test for the team. He is also credited with bring the famous Honda engine to Lotus later on. The rwep looks to be a used one but the Pirelli painted logo looks almost perfect as it was only used for a handful of laps.
So a very rare item indeed traced to the 1 test session.
Comes with an individual numbered coa guaranteeing authenticity.
Reviews