NOW SOLD - Unique Senna Di Angelis signed JPS Lotus press pack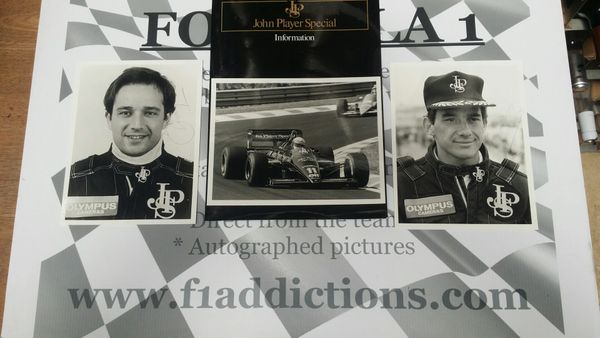 NOW SOLD - Unique Senna Di Angelis signed JPS Lotus press pack
I HAVE NEVER SEEN ANOTHER ONE OF THESE FOR SALE.
A very very special item. This is a press pack from the JPS Lotus team introducing the new 97T car, drivers and team with photos and spec sheets on all. 
What makes this special is it has been signed by both Ayrton Senna and Elio de Angelis in person.
The signatures were obtained by a marshal (who is recognised in his field) who headed a team of 5 who looked after the Lotus F1 team at the British Grand Prix. He personally obtained the signatures from the drivers. He also writes a small note explaining this.
It has been authenticated by one of the leading signature experts in motorsport and Senna signatures. 
It is a an early example of Senna's signatures and the entire pack is in almost pristine condition. These do not come up authenticated that often. This is a trulyfantastic authentic item to own for the F1 collector. Buy with complete confidence. Authenticity is assured and can be provided upon request.
Reviews