NOW SOLD-Toyota TF102 2002 full front wing with b flap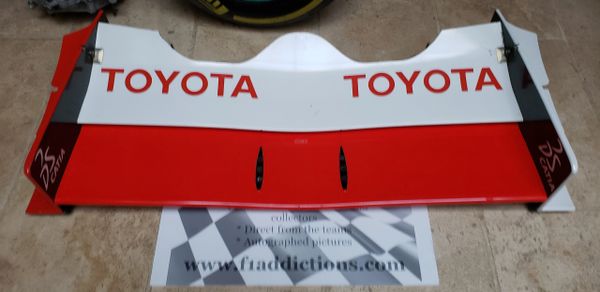 NOW SOLD-Toyota TF102 2002 full front wing with b flap
NOW SOLD'This is a rare item. Its from the 1st Toyota F1 car TF102 raced in the 2002 season.
I have not seen one of these on the market before. Toyota F1 items do not come to market often.
It comes with full b flap and front wing end playes so is a complete full front wing. It has a few battle scars as you would expect racing at speeds up to 200 mph.
Full front wings are an iconic part of the F1 car and much sought after. They can command high prices as they make excellent display items. This is an affordable used front wing display item for your F1 collection.
Comes with a coa for your peace of mind.
It's a large item so postage costs will be a bit higher.
Postage:
UK £85
Rest of World £175
Reviews