NOWSOLD-This Lotus F1 Team engine cover was raced on the E21 car by Romain Grosjean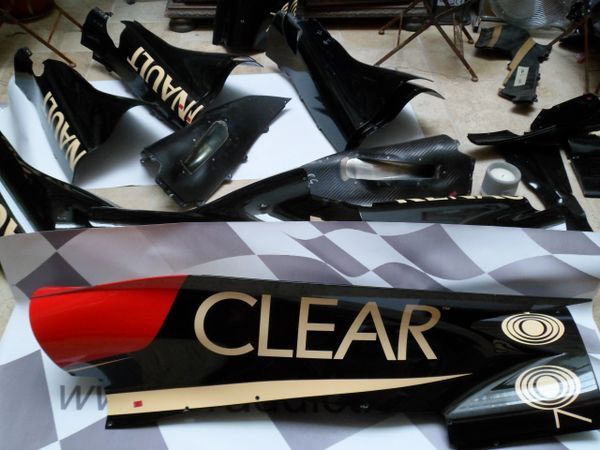 NOWSOLD-This Lotus F1 Team engine cover was raced on the E21 car by Romain Grosjean
NOW SOLD-GRAB A BARGAIN NOW This Lotus F1 Team engine cover was raced on the E21 car. Driven by Romain Grosjean. This genuine piece of team heritage from the 2013 season comes direct from the team. F1 engine covers act as a thermal barrier and a core part of the car's aerodynamics. They are an iconic part of an F1 car and easily recognisable as well as representing one of the most lucrative spaces for advertising revenues. This bold E21 black & gold livery clearly features the CLEAR logos and hashtag Chicane Tandoori.This is a beautiful piece of artwork in its own right sculpture in the wind tunnel. Lotus F1 is no more so these pieces will become rarer to find.
PLEASE CONTACT US VIA EMAIL (justin@f1addictions.com) FOR AN INDIVIDUAL POSTAGE QUOTE.
In addition F1 items are unconventional in size and weight, couriers also take into account the volume and size of the package. Please note that although F1 items may be light in weight, they can be large in volume and couriers take this into account when pricing. This is why at check out postage can not be calculated. We endeavour to offer the best World postage rates available to you. See our postage / shipping section. PRICES DO NOT INCLUDE POSTAGE.

Reviews