NOW SOLD -Red Bull RB3 full front wing driven by David Coulthard / Mark Webber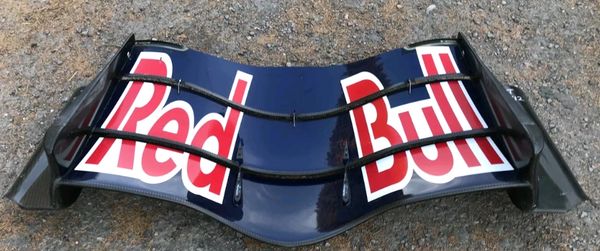 NOW SOLD -Red Bull RB3 full front wing driven by David Coulthard / Mark Webber
Own an iconic large piece of an F1 car. Driven by David Coulthard / Mark Webber.
Red Bull RB3 front wings are the last 'Red Bull' branded items the F1 team will be releasing. 
This is because after the RB4 car they changed thier paint technology incorporating the logos in the paint and deem it too sensitive to relase.
Therefore there are no further branded Red Bull items.
If you ever wanted a gorgeous piece of Red Bull branded F1 memorabilia then this is your chance.
Very limited numbers.
Comes with a coa guarenteeing it's authenticity.
Postage : 
UK £ 110
Mainland Europe £ 110 
Rest of World £ 195 
Reviews