Red Bull Racing.Sebastian Vettel RB6, 7, 8 and 9 Championship winning wheel set..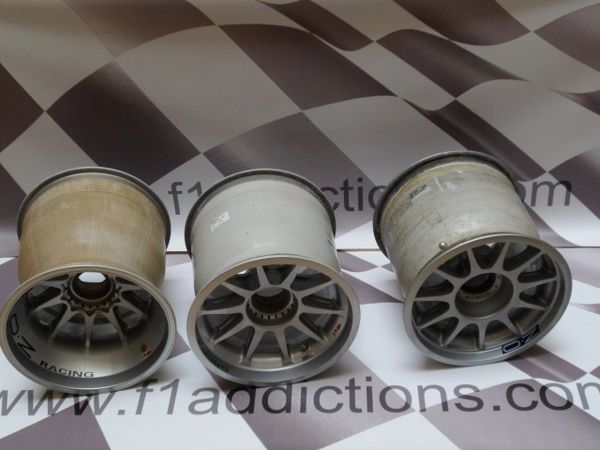 Red Bull Racing.Sebastian Vettel RB6, 7, 8 and 9 Championship winning wheel set..
FULL WORLD CHAMPIONSHIP WINNING WHEEL SET
Sebastian Vettel`s RB6, RB7, RB8, and RB9 ( 1 FROM EACH CHAMPIONSHIP WINNING YEAR).
Used by Sebastian Vettel in ALL HIS 4 World Championship Winning seasons. The wheel comes direct from Red Bull with a unique and individual part number which will allow you to trace its individual history. These wheels were used at more than 1 race. These are raced wheels and although they have been cleaned and polished they do come with some marks gained in wheel to wheel racing throughout the season.
These are now almost impossible to find. You will not find a set from all 4 years of his championship winning seasons. A true sporting investment. We have some in stock so buy before they go.
Comes with Certificate Of Authenticity for your peace of mind.
Another option available is to have a relevant F1 show tyre fitted to really show off your newly purchased piece of sporting history. Please ask as various used and new tyres can be requested.
PLEASE CONTACT US VIA EMAIL (justin@f1addictions.com) FOR AN INDIVIDUAL POSTAGE QUOTE.
In addition F1 items are unconventional in size and weight, couriers also take into account the volume and size of the package. Please note that although F1 items may be light in weight, they can be large in volume and couriers take this into account when pricing. This is why at check out postage can not be calculated. We endeavour to offer the best World postage rates available to you. See our postage / shipping section. PRICES DO NOT INCLUDE POSTAGE.

Reviews