Rare Lotus E20 engine cover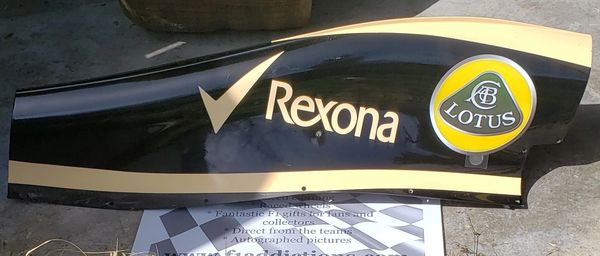 Rare Lotus E20 engine cover
Very Rare. This Lotus F1 Team engine cover was raced on the E20 car. Driven by world champion Kimi Raikkonen and Romain Grosjean with 1 win and 10 podiums between them. This genuine piece of team heritage from the 2012 season comes direct from the team. F1 engine covers act as a thermal barrier and a core part of the car's aerodynamics. They are an iconic part of an F1 car and easily recognisable as well as representing one of the most lucrative spaces for advertising revenues. This bold E20 black & cream livery clearly features the Lotus logo and and Rexona logo. This is a beautiful piece of artwork in its own right sculpture in the wind tunnel. Lotus F1 is no more so these pieces have now become difficult to find.
Comes with coa for your piece of mind.
This is a large item so shipping price is a little higher.
Reviews