Murray Walker`s signature on 1999 Hockenheim race programe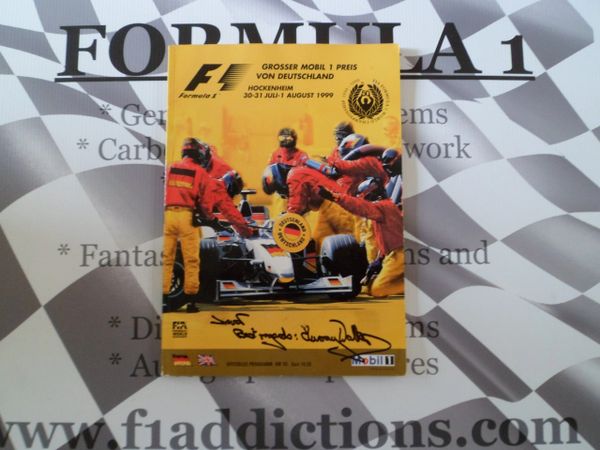 Murray Walker`s signature on 1999 Hockenheim race programe
Murray Walker`s signature on 1999 Hockenheim race programme
The commentating legend that is Murray Walker. Here is his signature obtained at the 1999 Hockenheim GP.
We all remember some of his hilarious comments such as:
" with 2 laps to go then the action will begin, unless this is the action, which it is" and
" Nigel Mansell is the last person in the race apart from the five in front of him"
Own a piece of Murray
PLEASE CONTACT US VIA EMAIL (justin@f1addictions.com) FOR AN INDIVIDUAL POSTAGE QUOTE.
In addition F1 items are unconventional in size and weight, couriers also take into account the volume and size of the package. Please note that although F1 items may be light in weight, they can be large in volume and couriers take this into account when pricing. This is why at check out postage can not be calculated. We endeavour to offer the best World postage rates available to you. See our postage / shipping section. PRICES DO NOT INCLUDE POSTAGE.

Reviews