NOW SOLD - Mercedes 2014 W04 World Championship winning engine cover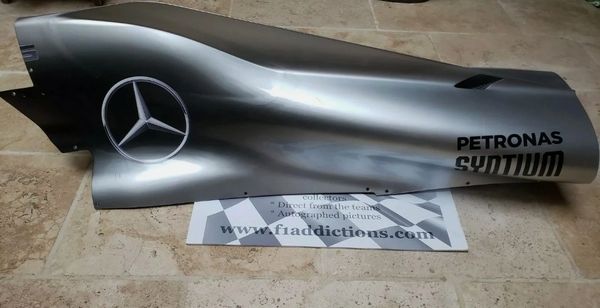 NOW SOLD - Mercedes 2014 W04 World Championship winning engine cover
ONLY 1
Mercedes 2014 W04 World Championship winning engine cover.
Wow. Here we have released by Mercedes F1 team a 2014 World Championship winning engine cover driven by Hamilton/Rosberg with 8 World Championships between them.
As we know large Mercedes body panels are hard to find as most are cut up and suspended in perspex for resale at the request of Mercedes themselves. It is even harder to find items like these driven by Lewis/Nico still intact.
This represents a fantastic sporting investment in one of the best F1 teams and drivers ever.
Who knows where he will end up in the record books? Items from Senna's and Schumacher's career now command serious money as do Hamiltons. It's very possible Lewis has a few more Championships to come making him the greatest driver ever. Now is the time to purchase a beautiful and historic piece of an F1 car which will only rise in value and represents a fantastic investment in sports memorabilia.
It does have some marks and scratches which are to be expected having been used at up to 200 mph.
It comes with a coa with full money back guarantee should you find it not to be the genuine article. We offer this because we purchase every item direct from the teams.
Posted from France fully insured.
Reviews