NOW SOLD - Lewis Hamilton used Mercedes W07 rear wheel with pirelli show tyre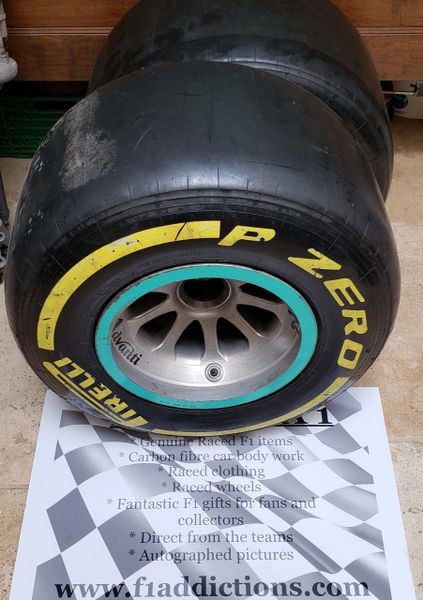 NOW SOLD - Lewis Hamilton used Mercedes W07 rear wheel with pirelli show tyre
NOW SOLD - Rare 2016 Mercedes rear World Championship winning wheel with yellow pirelli show tyre. Driven by Hamilton during the very successful 2016 season where Mercedes won the Constructors Championship and both drivers were 1st and 2nd in the Drivers World Championship. It has all the correct stickers on it.
The pirelli tyre has very good writing on the sidewalls ( pic 5 is the actual tyre that will be on the rim ).
This would make a rare and fantastic display item for any F1 fan. This is the newest/latest spec wheel from Mercedes.
Lewis continues to rewrite the record books. As we know Hamilton used Mercedes used items are hard to find as most rarly come to market.  It is even harder to find items like these driven by Lewis.
This represents a fantastic sporting investment in one of the best F1 drivers ever. Who knows where he will end up in the record books? Items from Senna's and Schumacher's career now command serious money as do Hamiltons. It's very possible Lewis has a few more Championships to come making him the greatest driver ever. Now is the time to purchase his items. This will only rise in value and represents a fantastic investment in sports memorabilia. Not seen many 2016 Mercedes wheels come to market.
Very few of these about. Only this one for sale.
Comes with coa.
Postage is insured.
Uk and Europe £65
Rest of world £165

Reviews