NOW SOLD-JPS Lotus T95 Mansell / Di Angelis front wing element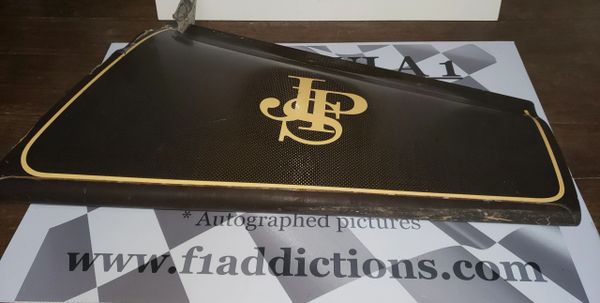 NOW SOLD-JPS Lotus T95 Mansell / Di Angelis front wing element
NOW SOLD-JPS Lotus front wing end plate with some damage.
From the T95 car driven by Nigel Mansell / Ellio Di Angelis.
A very rare opportunity to own a piece of the classic and iconic 1980's JPS Lotus liveried car. This is a large used front wing element with small damage. Would look great framed to display. Not too many of these parts survive. Most are still owned and used by Classic Team Lotus on thier cars or on Lotus cars in museaums.
A must have for any Lotus, Mansell or Di Angelis fan.
Only the front wing element for sale. The second to last picture shows the other part of the wing which is for sale as a seperate item.
Posted from France.

Reviews