From the first Mercedes W01 car Schumacher used right sidepod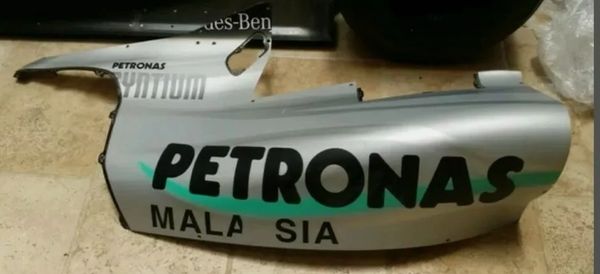 From the first Mercedes W01 car Schumacher used right sidepod
Here we have some F1 history. This is the right sidepod from the 1st modern Mercedes F1 team efforts. The Mercedes W01 car and used by the legendary Michael Scumacher.
After the Brawn teams 1 and only year in F1 where they won the drivers and manufacturers World Championship. They were brought out by Mercedes. The sidepod is from the very first car. No other W01 sidepod is for sale anywhere making it a very rare item.
I HAVE A PAIR OF THESE FOR SALE. THIS IS THE RIGHT SIDEPOD OF THE PAIR. SEE MY OTHER LISTING FOR THE LEFT SIDE.
With its historical place in the Mercedes successful story the sidepod do truly represent a fabulous investment. Any owner would be proud to display this in thier collection. It is a large item and would sit very well in a motorsports museum.
Comes with a coa offering you a full guarantee of authenticity or money back.
Shipping costs maybe higher as it is a large object and may exceed some shipping companies dimension parameters. SHIPPING QUOTE WILL BE ADDED TO PRICE.

Reviews