NOW SOLD-DRIVER RACE SUIT. F1 Championship challenger JP MONTOYA BMW WILLIAMS F1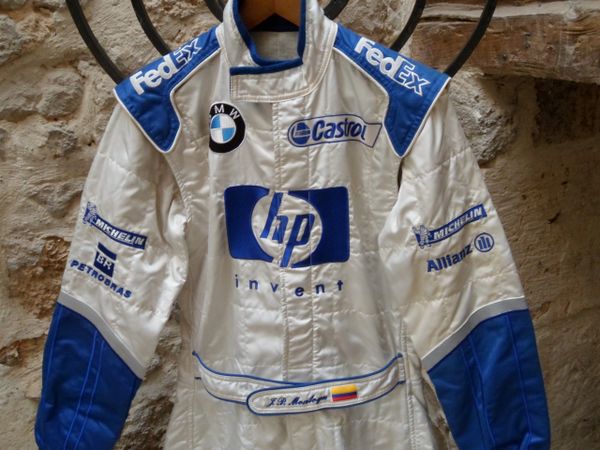 NOW SOLD-DRIVER RACE SUIT. F1 Championship challenger JP MONTOYA BMW WILLIAMS F1
NOW SOLD--JPM02 F1 DRIVER RACE SUIT JP MONTOYA BMW WILLIAMS F1 USED IN HIS F1 WORLD CHAMPIONSHIP TITLE CHALLENGE.
DS 057
PLEASE CHECK PHOTOS FOR SUIT CONDITION

(TRIPLE LAYER NOMEX - FIA LICENCE)
AS WORN BY F1 DRIVER

JUAN PABLO MONTOYA
THIS F1 DRIVER RACE SUIT COMES DIRECT FROM WILLIAMS MARTINI RACING
F1 items have been raced and used for an entire F1 season and may show signs of use and wear.
PLEASE CONTACT US VIA EMAIL (justin@f1addictions.com) FOR AN INDIVIDUAL POSTAGE QUOTE.
In addition F1 items are unconventional in size and weight, couriers also take into account the volume and size of the package. Please note that although F1 items may be light in weight, they can be large in volume and couriers take this into account when pricing. This is why at check out postage can not be calculated. We endeavour to offer the best World postage rates available to you. See our postage / shipping section. PRICES DO NOT INCLUDE POSTAGE.
Reviews