NOW SOLD-KIMI RAIKKONEN / ROMAIN GROSJEAN - LOTUS E21 - RENAULT - REAR WING UPPER MAIN PLANES & DRS MOUNTINGS - 2013 F1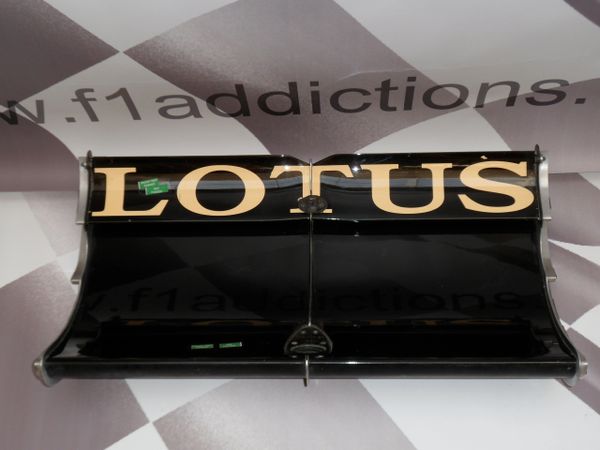 NOW SOLD-KIMI RAIKKONEN / ROMAIN GROSJEAN - LOTUS E21 - RENAULT - REAR WING UPPER MAIN PLANES & DRS MOUNTINGS - 2013 F1
NOW SOLD
KIMI RAIKKONEN / ROMAIN GROSJEAN - LOTUS E21 - RENAULT - REAR WING UPPER MAIN PLANES & DRS MOUNTINGS - 2013 F1
Race used Kimi Raikkonen / Romain Grosjean Lotus Renault E21 Rear Wing, from the 2013 Formula one season.

The Lotus Rear Wing is race used, and made from carbon fibre and exotic aerospace grade titanium alloy.
High downforce / deep wing.
The Lotus Rear Wing is approximately 740mm in length x 400mm in depth, complete with 'Test Passed NDT / Service Tags'.
This is a large car part from the Lotus F1 Car!
The Rear Wing was originally used during the 2013 F1 by the Lotus Renault Formula One team.
The perfect item for your very own F1 man-cave.
PLEASE CONTACT US VIA EMAIL (justin@f1addictions.com) FOR AN INDIVIDUAL POSTAGE QUOTE.
In addition F1 items are unconventional in size and weight, couriers also take into account the volume and size of the package. Please note that although F1 items may be light in weight, they can be large in volume and couriers take this into account when pricing. This is why at check out postage can not be calculated. We endeavour to offer the best World postage rates available to you. See our postage / shipping section. PRICES DO NOT INCLUDE POSTAGE.

Reviews