AMAZING. Lewis Hamilton Mclaren nosecone section from his 1st world championship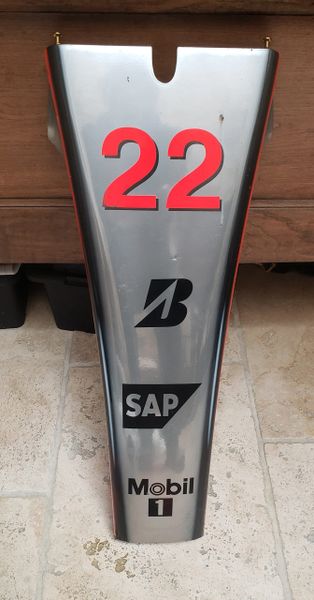 AMAZING. Lewis Hamilton Mclaren nosecone section from his 1st world championship
AMAZING. Lewis Hamilton Mclaren nosecone section from his 1st World Championship. Having narrowly missed out on his 1st World Championship in his rookie year Lewis started his 2nd season driving the Mclaren MP4 23.
With several wins and podiums Lewis won the drivers World Championship to begin his record breaking story in F1.
This nose cone section comes from this car and his 1st World Championship. It is an amazing item from an iconic car and driver. It carries his allocated number 22 for this year, pre number 44 for his other World Championships. 
We have never seen a nosecone section from a Lewis car ever come to market. It is truly a unique and very collectable item. This is the one to have for the serious collector.
Hamilton, Senna and Schumacher and items are very collectable and represent true investment items far outstripping any returns from recent bank savings. Indeed a similar Senna Mclaren nosecone is on sale at $50,000. 
It comes with an individual coa guaranteeing its authenticity and offering a full money back guarantee should you find it not to be the genuine article. 
Feel free to contact us at: justin@f1addictions.com 
Reviews