Alonso Renault R29 full F1 car project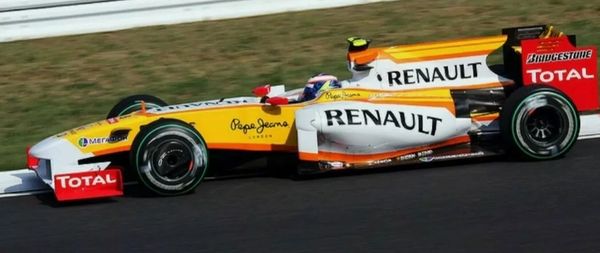 Alonso Renault R29 full F1 car project
NOW WITHOUT GEARBOX AT A REDUCED PRICE
* WILL CONSIDER SENSIBLE OFFERS ON THIS FANTASTIC PROJECT*
Alonso Renault R29 full F1 car project. Here is my project. Due to ill health i will not have the capacity to finish it so with much regret I am selling it.
Comprises of:
NEW PART ADDED. Alonsos headrest with name and flag.
R29 engine cover/ both sidepods (1 piece).
Full matching floor.
Full front wing.
Large side air intakes left and right.
Full working gearbox with oil still in it. (all rear suspension, uprights, wing attach to gearbox.
3 titanium uprights with axels. 1 missing.
Several R29 and R28 suspension arms/pushrods front and rear. Still requires some.
Alonso R29 full seatbelts.
4 x blank slick tyres. 2 rears 2 fronts.
There is alot of the car here but still alot more to find. It would make an excellent show car using genuine F1 parts. Normally show cars do not have an engine but use a welded framework (engine sized) to bolt the gearbox to the cockpit which is what i intended to do.
This project is not for the faint hearted but if you ever wanted to own/build/display your own modern F1 car then this is probably the best starting point you will ever find. Ive done alot of the hard work for you but there's plenty more hard work to do. Full F1 show cars command some very high prices so this represents a fantastic investment for someone to take on and finish.
*Please note. Last picture shows car with a different front mainplain which is not sold with the car. It also shows an older mock up cockpit made by an F1 team in fibre glass for evaluation purposes. It is not correct but can be part of the sale if required.*
The R28 car was involved in the infamous  "crashgate" incident in 2008. After this incident ING withdrew its sponsorship and for the 2009 season the car ran with the Renault branding.
Shipping will be a nominal £100 as I have to put a figure down for ebay but please contact for a true cost bearing in mind it is a large item...its a full size F1 car.
It may be possible to deliver personally within the Uk and Europe.
Reviews