NOW SOLD-7 times World Champion Michael Schumacher signed Mercedes hat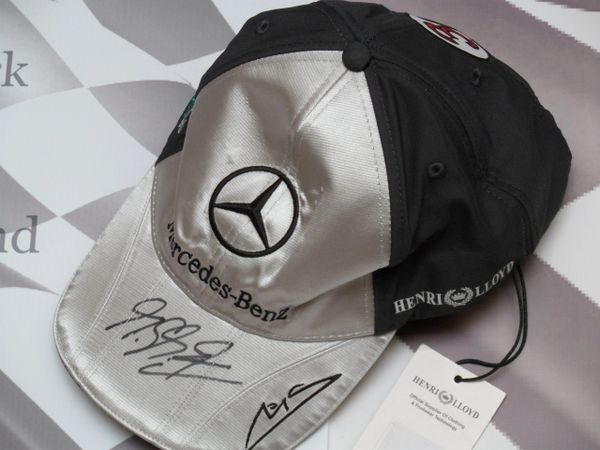 NOW SOLD-7 times World Champion Michael Schumacher signed Mercedes hat
NOW SOLD-7 times World Champion Michael Schumacher signed Mercedes hat. This is a team Mercedes Henri Lloyd cap bearing Michael's name and his racing number 3. It still has its holographic label on and in great condition. These items are now becoming rare as most are snapped up by collectors. Would look fantastic mounted and has a very clear autograph. Would make a great gift for the ultimate F1 fan.This fantastic memento comes with a COA so buy with confidence.
PLEASE CONTACT US VIA EMAIL (justin@f1addictions.com) FOR AN INDIVIDUAL POSTAGE QUOTE.
In addition F1 items are unconventional in size and weight, couriers also take into account the volume and size of the package. Please note that although F1 items may be light in weight, they can be large in volume and couriers take this into account when pricing. This is why at check out postage can not be calculated. We endeavour to offer the best World postage rates available to you. See our postage / shipping section. PRICES DO NOT INCLUDE POSTAGE.

Reviews